What is Yukka? Yukka sells the coolest of the cool when it comes to Young fashion, whether you're into U.S. labels, cool European streetwear, the best of British or following the latest style clippings from the likes of Kanye West, Jay-Z or Rihanna then Yukka should be your first point of call!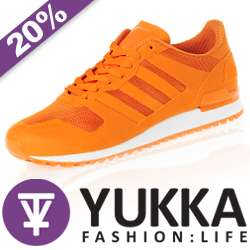 Let's get to the route of the story…
Yukka is your route to fashion from the streets
Way back in 2003, Yukka's founder, Robby Sur (Online Fashion Top 100, 2010), spotted a demand for G-Unit T shirts, as worn by 50 Cent who had the world's biggest selling album at the time. Having sourced a supplier and created Yukka! A seed was planted and Yukka started to grow.
From it's humble beginnings Yukka has grown from selling a few hot t-shirts online, to becoming the UK's leading independent retailer of the hottest and most exclusive product from the urban and streetwear fashion genres. Yukka now stocks in excess of 100 brands and 2500 of the hippest products!

Yukka is your route to fashion from the streets…
Robby Sur
Founder of Yukka
Leave a comment
No comments yet.